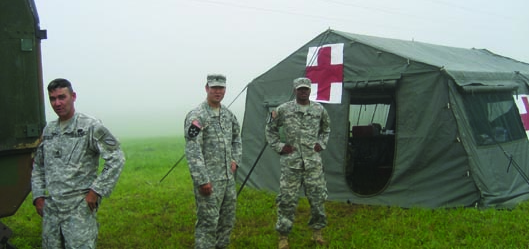 The 2004 and 2005 After Action reports for the Emergency Management Assistance Compact (EMAC) identified state accountability and education of personnel as the primary opportunities for improvement.  For purposes of credentialing, the ability to validate that "people are who they say they are" has become a highly recognized need.
The EMAC Personnel Accountability Processing Package (EPAPP) was developed as a template/model plan for EMAC Member States build an efficient and effective system for processing and accounting for arrivals and departures of personnel and resources obtained through the EMAC system.
The EMAPP plan is intended to provide an adaptable planning template that will assist EMAC Member States in the development of their EMAC Personnel Accountability and Processing Package (EPAPP) that contains both an EMAC Mobilization Unit (EMU) and a Demobilization Unit (DMU) component.
Both the EMAC Mobilization Unit and the EMAC Demobilization Unit are resource typed, and can be activated for in-state use or deployed through EMAC as a mission ready package. The primary difference between the Type I and Type II units for both the EMU and the DMU is the logistical support needed to stand up a Type I.  The functional stations of the two types are identical.
States requesting assistance through the EMAC system may choose to stand up one, multiple, or both "plug-in" and "stand-alone" EMU(s) and DMU(s) during an event. This is a discretionary decision by the Requesting State to direct incoming and outgoing personnel to a processing package that would be easily accessible from both their home state and the work location.  For example, if the in-coming resource is in need of food and lodging, they would be directed to arrive at a plug-in EMU.  If in-coming personnel are arriving and will be moving on to the resource staging area, they may elect to arrive at the stand-alone EMU and get back on the road as quickly as possible.

Thank you to the states of Kentucky, South Carolina, North Carolina, Louisiana, Washington, & Massachusetts for their willingness to pilot the plan and to provide feedback for the continued improvement of the template plan.