Mission Ready Package Templates for Fire, HazMat, EMS, and IMTs
In 2023, NEMA partnered with the International Association of Fire Chiefs (IAFC) to develop templates for the development of Mission Ready Packages (MRPs). 
MRPs are key to expediting the mutual aid request and offer process and ensuring all mission related expenses are accounted for and paid during reimbursement. 
Download a MRP template to build your own MRP today and upload it into the Mutual Aid Support System (MASS).
Learn more about building an MRP
.
EMAC's Benefits
Fast and Flexible Assistance

All Hazards - All Disciplines

Resources deploy through the state emergency management agencies of their respective states allowing for a coordinated deployment

Deployments are coordinated with the federal response to avoid duplication and overlap
Learn more about EMAC's Legal Protections by selecting from one of the options, below.
Learn About EMAC with Our Fire & Hazardous Materials EMAC Exercise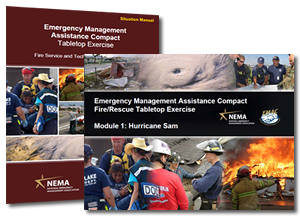 The Emergency Management Assistance Compact (EMAC) Tabletop Exercise (TTX)–Fire Service and Technical Rescue Discipline is sponsored by the National Emergency Management Association (NEMA), with input, advice, and assistance from the EMAC TTX exercise planning team (comprising representatives of the International Association of Fire Chiefs (IAFC)). NEMA sincerely appreciates the support of the IAFC in the development of the exercise materials and the advancement of mutual aid.

Exercise participants are provided all of the necessary tools for their roles in the exercise to identify, request, provide, mobilize, and deploy mutual aid resources for any disaster through the EMAC system.

This exercise was developed using guidance set forth in the Federal Emergency Management Agency (FEMA) Homeland Security Exercise and Evaluation Program (HSEEP).

The following functional groups should be present at each offering of the exercise:
Requesting and Assisting State EM and the State Emergency Operations Center (SEOC) Advance Team (A-Team) representation
State EMAC Designated Contact (EMAC Coordinator) representation
State fire services/emergency services and/or Urban Search and Rescue (USAR) representation (state coordinator for such disciplines)
Local fire/rescue leadership
Local EM and EOC leadership

Resources

The tabletop exercise is conducted using a total of fourteen files, which include manuals, presentation files, and videos. You may download each file separately using the links below, or you may download all fourteen in one complete zip package. (Remember to extract the files after downloading a zip file.)

Notes:
All PowerPoint files are password protected, so no modifications may be made. You may open a PowerPoint file by selecting the "read-only" option.
All PDF files are protected such that modifications are not possible. You may print, but you may not change the contents, extract pages, etc.
All materials are the property of NEMA and may not be altered in any way without the consent of NEMA.
Below is a list of all of the exercise materials: 

 PDF Documents (manuals):
 Situation Manual
 Participant Feedback Form
 Moderator Instruction Booklet
 Facilitator/Evaluator Handbook
 Master Scenario of Events List

 PowerPoint Files (presentation files):
 Introduction
 Module 1: Hurricane Sam
 Module 2: The EMAC Process
 Module 3: Bumps in the Road
 Module 4: Ongoing Operations
 Module 5: Reimbursement Phase
Hotwash

Videos for PowerPoint Modules 1 and 4

Note: For the videos to play in Modules 1 and 4, the video files must be extracted from this zip file and placed in the same folder as the PowerPoint files for the modules.