Telecommunicator Emergency Response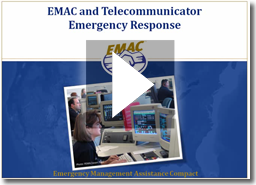 In cooperation with the National Telecommunicator Emergency Response Taskforce (TERT), the Association of Public-Safety Communications Officials (APCO), and the National Emergency Number Association (NENA), NEMA EMAC Advisor Jack Jowett presented this 35-minute Webinar on "EMAC and Telecommunicator Emergency Response."

NEMA encourages the organization of telecommunicator resources under the TERT initiative.  TERT involves a comprehensive program that includes assistance to individual states in developing programs that would lead to the establishment of predetermined and selected trained teams of individuals who can be mobilized quickly and deployed to assist communications centers during disasters.

Further, NEMA encourages the use of the TERT typing as a starting point for developing a response-specific Mission Ready Package. 

Learn more about TERT by visiting the Telecommunicator Emergency Response Taskforce website.



EMAC's Benefits
Fast and Flexible Assistance

All Hazards - All Disciplines

Resources deploy through the state emergency management agencies of their respective states allowing for a coordinated deployment

Deployments are coordinated with the federal response to avoid duplication and overlap
Learn more about EMAC's Legal Protections by selecting from one of the options, below.