Learn How to Prepare for an EMAC Law Enforcement Mission
EMAC, in cooperation with the Major Cities Chiefs Association (MCCA), the Major County Sheriffs' of America Association (MCSA), and National Sheriffs Association developed the first
EMAC Tips for Law Enforcement
document in 2006 after utilization of law enforcement during the 2004 and 2005 hurricane seasons.
Frequently Asked Questions
Do law enforcement officers have the power of arrest under EMAC?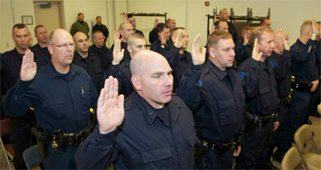 Requesting States may authorize law enforcement personnel to possess power of arrest in their states. 

There are two requirements for this to be valid.
1. The agreement between the two states must stipulate this power.
2. The law enforcement personnel must be sworn in upon arrival in the Requesting State.