Available 24/7
Learn at your pace
Earn Continuing Education Credits
Quizzes to test your knowledge
Final Assessment Shows Competency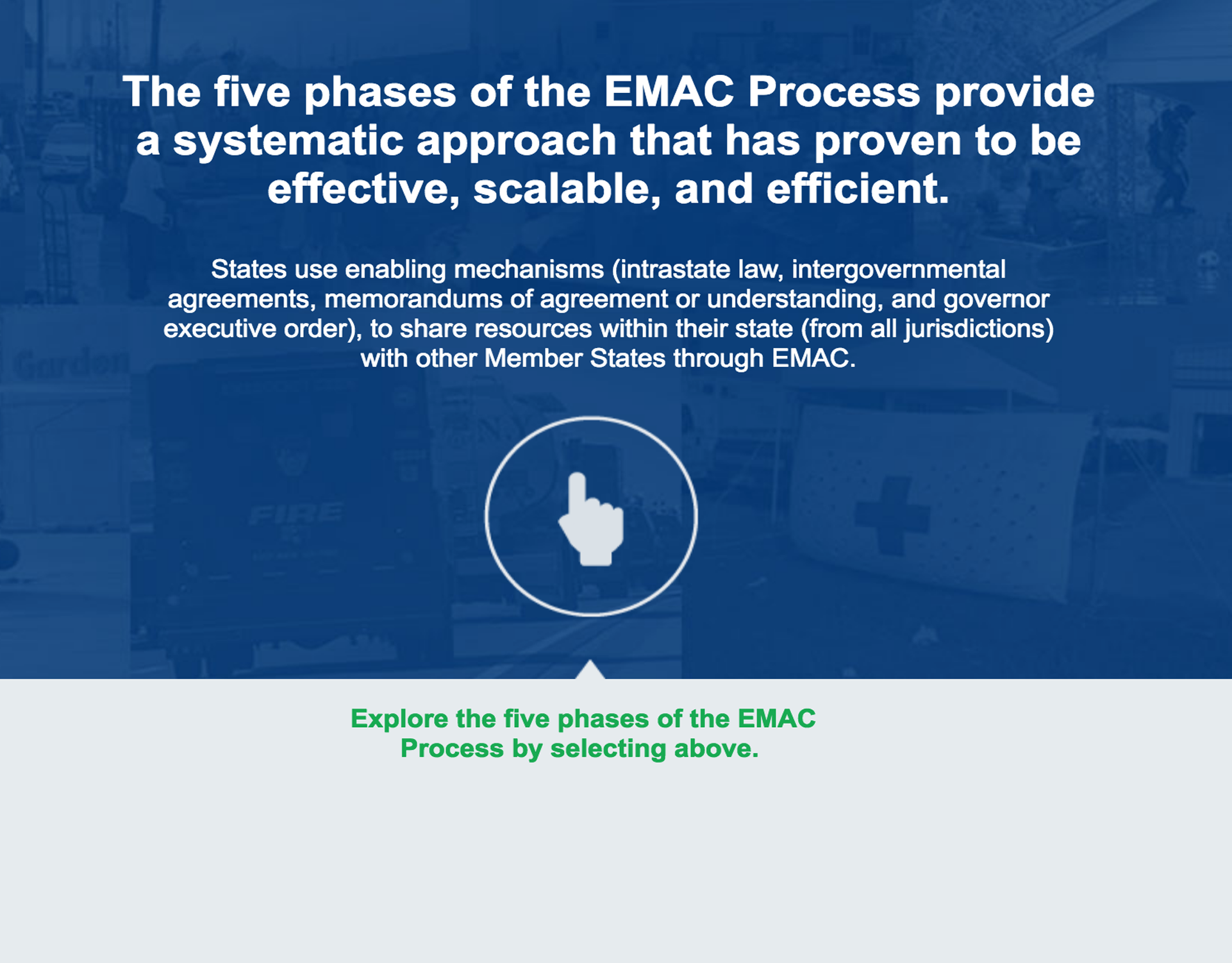 The EMAC Process
An interactive on the basics of the EMAC process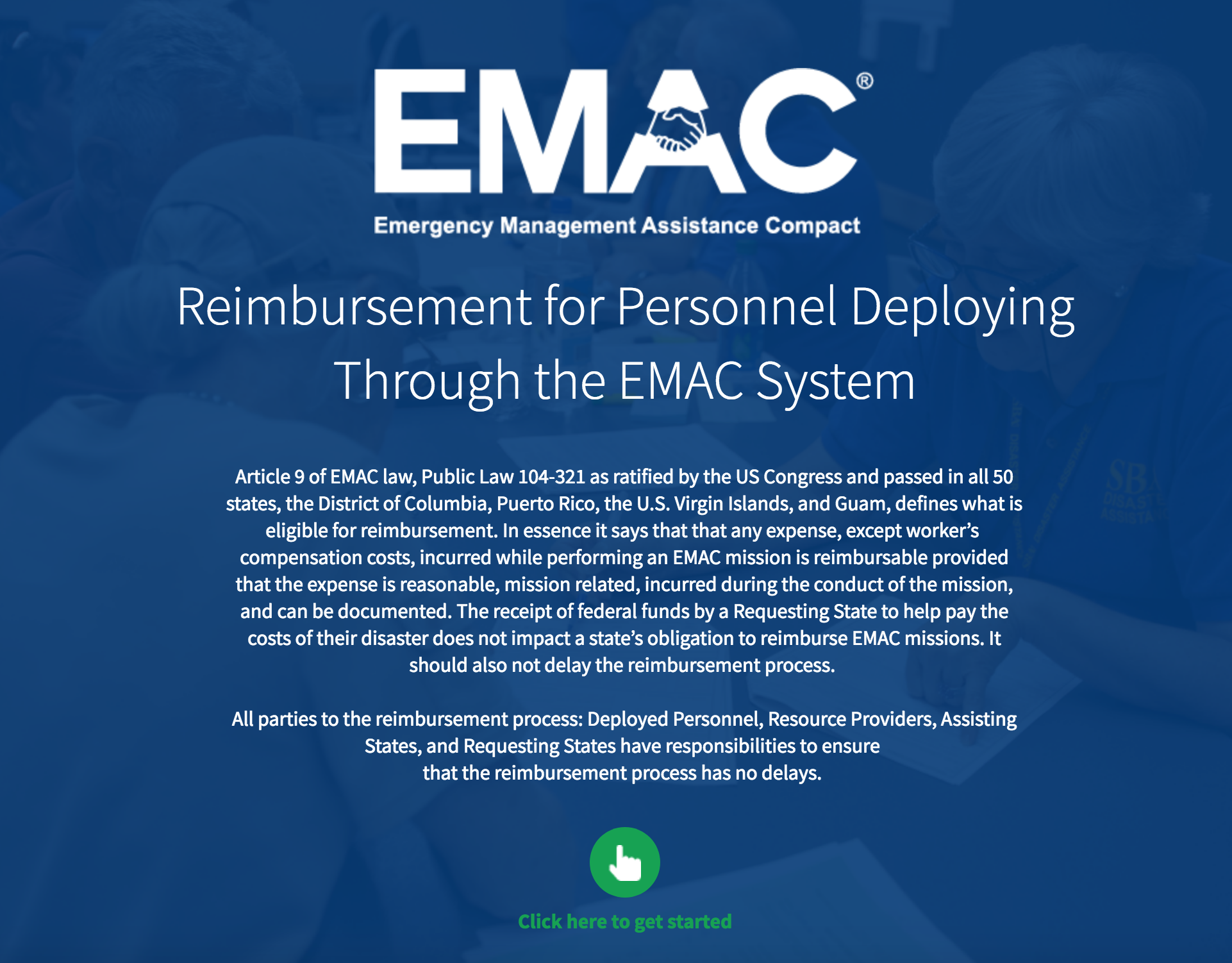 Basics of EMAC Reimbursement
An interactive learning resource on the EMAC reimbursement process, cost eligibility, and timelines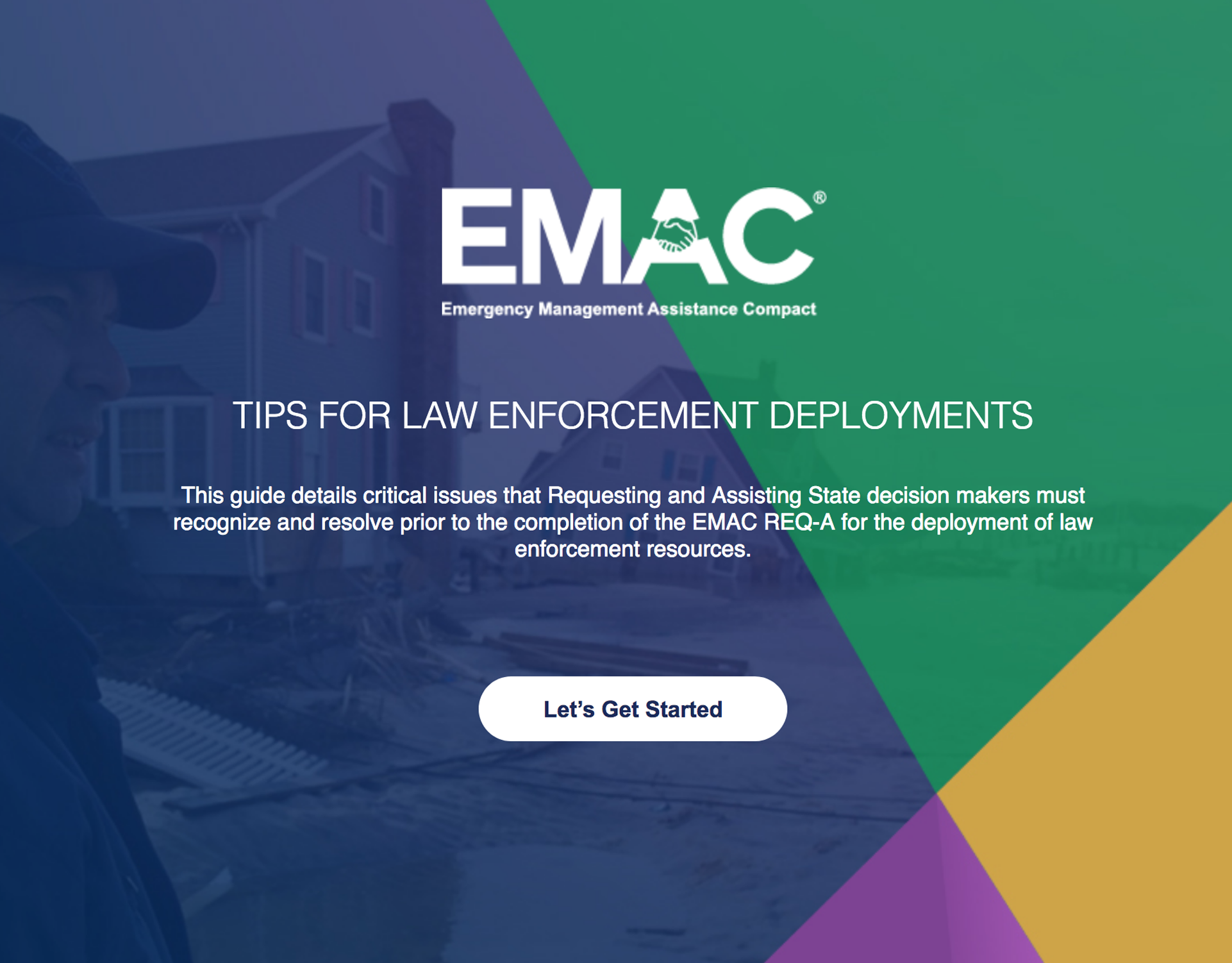 PDF document of eligible expense and how to document them for reimbursement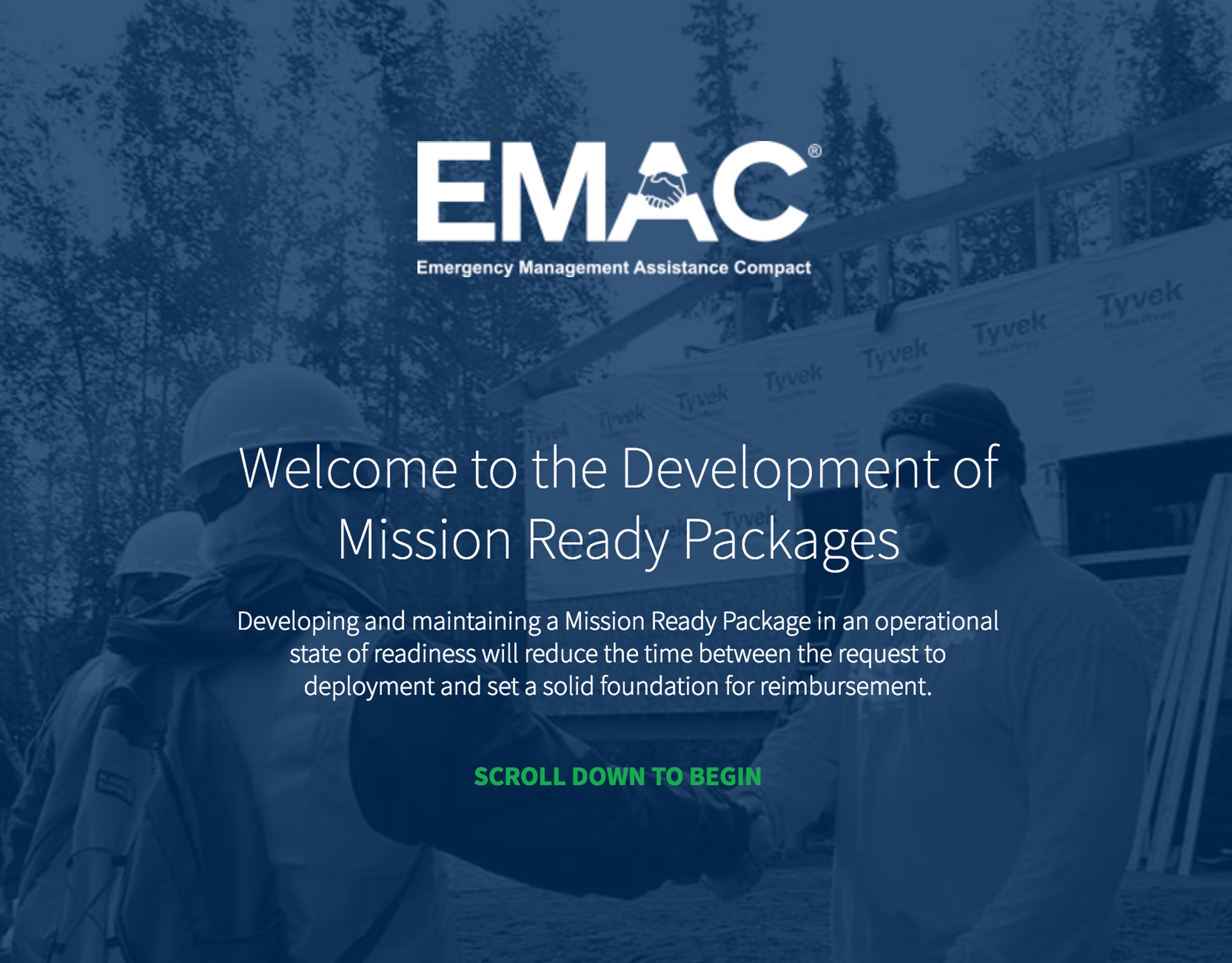 Mission Ready Packages
An interactive overivew of how to develop MRPs, the FEMA RTLT, and why MRPs are the gold standard in preparedness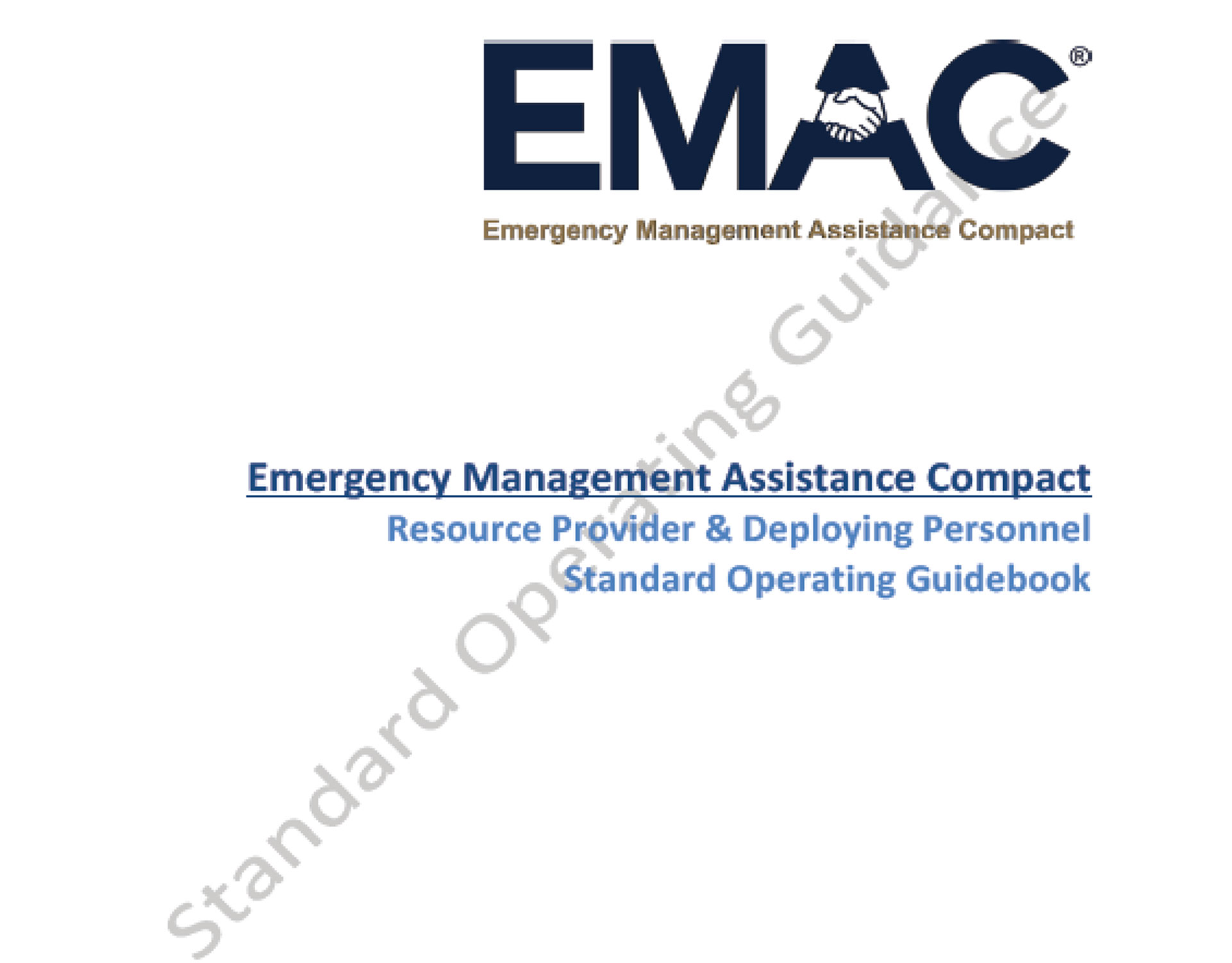 PDF Document: Standard Operating Guidelines for Deploying Personnel & Resource Providers (does not override state guidance)

State emergency management agencies may download and instruct courses developed by NEMA to use within their state or they may develop their course materials.

The following courses are available to state emergency management agencies for download in the access controlled EMAC library:
The State and Resource Provider Guide to Implementing EMAC is a template course that can be customized by the State EMA to show how the Compact is implemented within their state.
The Mission Ready Package (MRP) Workshop provides a walkthrough of how to develop an MRP.
Note: If you are a state emergency managment agency and you are unable to see the courses for download, please login.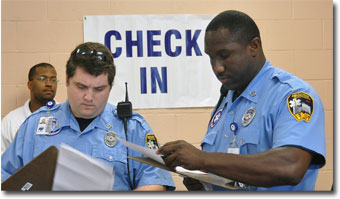 Looking for an EMAC Exercise you can adapt and use in your state?
NEMA has developed a number of standard EMAC exercises that can be used in your state.  Download the exercises, below. 
Fire Service and Technical Rescue Exercise
Target Audience: State emergency management directors.

Short Course Description: Offered as part of the New State Emergency Management Directors Course through the Emergency Management Institute (EMI) at Emmitsburg, Maryland, The State Emergency Management Directors Course offered through EMI offers two  EMAC modules.

The first session is an online webinar that focuses on the State Director responsibilities to EMAC.

The second is a face-to-face session on the operational aspects of implementing EMAC as a Requesting and Assisting State.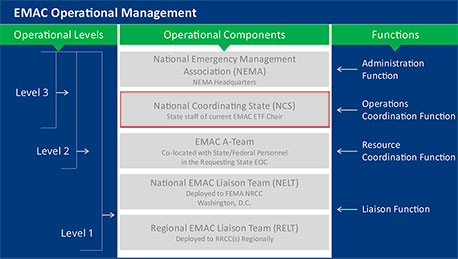 National Coordinating State Training & Exercise
Annually, NEMA provides the incoming EMAC Executive Task Force Chair and National Coordinating State training and an exercise prior to the annual change of leadership.

The training and exercise enables the new leadership to transition effortlessly into the important roles and responsibilities of EMAC system management. Both the training and exercise take place prior to the NEMA Mid-Year Forum at which time EMAC Executive Task Force leadership transitions.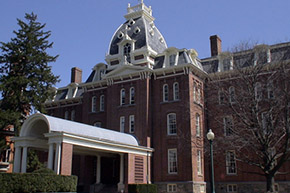 Understanding EMAC - E0431 at FEMA's Emergency Management Institute (EMI)
Target Audience:
First responders who may deploy through their state EMA via EMAC
Short Course Description:
Provides an overview of EMAC history, legal framework and processes. During this course you will be able to demonstrate your comprehension of the fundamental principles of EMAC and develop a Mission Ready Package in an interactive workshop.
Course Length:
4 days
Learn More

While states are legally responsible for providing education to the entities within their state, NEMA does offer limited educational opportunities upon demand. Availability is based upon funding.

If you wish to request a workshop, session, panel participant, or other engagement, please Contact Us.